On December 8th, 2012, Li Jin·Today·Banquet — Solo Exhibition of Li Jin - representative artist of contemporary
Chinese ink painting – will see its grand opening on the 2nd floor of Building No.1 at Today Art Museum. Li Jin
has created the latest scroll Li Jin·Today·Banquet specially for the exhibition, and his large-scale installation artwork of food Shashlik will be meeting with the audience in the side hall on the opening day.
On the scene of the opening, Today Art Museum has arranged both the visual banquet and the real "banquet
of a hundred", which will alter the museum into an "art cafeteria", providing the audience with both visual and
gustatory enjoyment on a rigid winter day.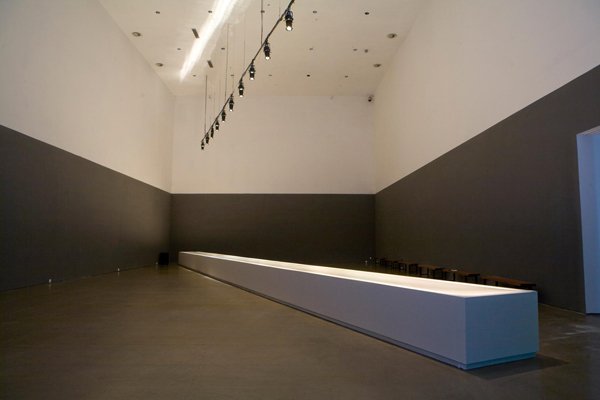 "The harmony between flavours" is drawn from ordinary lives
Li Jin has kept his loyalty to the visual language and culture of traditional Chinese painting. On the other hand,
he has been able to communicate with various audiences through the style of his own. The combination is
attributed to Li Jin's open and clear attitude, and has also gained him strength in the contemporary wash
painting filed. The flavours in his life are precisely those of the ordinary families, with no mark of unnatural
creation.
Curator of the exhibition, German Sinologist Mr. Ackermann thinks that the affection for earthliness permeates
Li Jin's paintings, and so does the sadness of inevitable death. Li Jin reveals for us that eternity can be touched
via the most profound pleasure of delicacies.
Li Jin has been addressed "Veteran of 85" and "Chinese inkPainting Prodigy." He excels in depicting everyday life
and has expanded traditional painting themes to a wider range. Rather than people, he uses his unique visual
symbols such as fish, meat and vegetables as main subjects of depiction. Richness in his life experience and
exquisiteness in his character also make him an important contemporary wash painting artist. Never pursuing
the classy art proclaimed by other artists, Li Jin simply presents his art with traditional Chinese linear painting
along with generous colours. Li Xianting used to describe Li Jin's works as follows, "In Li Jin's paintings of
delicacies, delicacies and utensils are rich in patterns. They are directly inlaid within crowded printing-like characters. Ink and colours compete for superiority, and characters and pictures enhance each other's charm.
The paintings are multicoloured and dynamic, and passion is scattered all over the places."
"Inspiration of transformation" derives from the affection for delicacies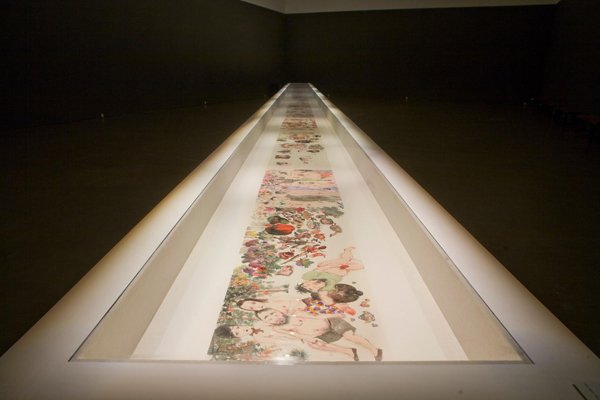 Focusing on every aspect of life and based on his own sensation, Li Jin depicts himself and tells his feelings of
life, enjoying his reputation of "life-style depiction" amongst the contemporary wash painting field.
The choice of the exhibition's theme, Delicacies, also derived from his everlasting affection for delicacies.
The scroll, Li Jin·Today·Banquet, 23 metres long and 0.53 metres high, is presented in the main hall on the
2nd floor of Building No.1 at Today Art Museum. Original materials and delicacies on the table which reveal
the relation between people and delicacies and people's attitude towards delicacies is seen in a form of
display, through which smell of food penetrates the audience's vision and passes on to their touch and
taste. In this artwork, some delicacies are inlaid within a "carpet" made up of written characters, whose

content can be recognized menus by a more careful glimpse, delivering a slight sense of humour.
The scroll Li Jin·Today·Banquet is spread on a 24-metre-long table, by whose sides some chairs are placed for
the audience to stop to carefully savour the artwork. This doesn't differ from a family banquet, for the table
is simply our dinner table, except that the food is a visual artwork.
The large-scale installation Shashlik, exhibited in the side hall on the opening day, is an interaction to
the planar scroll. Li Jin presents delicacies in front of people in a realist way, by spreading various foods
all over the dinner table. Eye-striking animals are plugged upon the 6-metre-long shashlik,
indicating the original nature of banquet. Another eye-catching work is a delicious cake,
whose surface is a partial close-up of Li Jin·Today·Banquet, as which the colours are similarly charming.
"Flavours of space-time" come from the "journey of art and delicacies"
In order to create Li Jin·Today·Banquet, Li Jin started a "journey of art and delicacies" in March, on which
he crisscrossed more than 10 cities over the globe: New York and Boston of the U.S., Hunan, Yunnan,
Guizhou, Shanghai and Zhejiang of China, Berlin and Munich of Germany, Paris of France, Madrid of Spain,
and terminated in Beijing.
At every place, Li Jin not only recorded what he saw literally, but also created paintings to explain what
his heart felt. He delivered his feelings from the tip of his tongue to the tip of his brush, showcasing
the audience "the delicacies of mind" and bringing the audience the experience, as if they were personally
at these places.
It is reported that the exhibition also includes two educational sections, art lectures and children's workshop.
During the lectures, Li Jin will be having dialogues with guests of different fields and telling his stories of art
and delicacies. The guests will include Mr. Ackermann, curator of the exhibition, Wei Xiaoping, stage play
director and Han Bi, writer, etc. Children will draw out their delicacies of mind together with Li Jin in their
section, and then throw a delicious and joyful "party of delicacies."
As Today Art Museum's grand exhibition to go beyond the year, Li Jin·Today·Banquet will be open to the
public from December 9th, 2012 to January 6th, 2013.