每个周末,今日美术馆都为大家安排了丰富的活动,包括专题讲座、主题沙龙、艺术创作、亲子互动、小型演出等等。这些活动从文化、艺术入手,通过多种方式,让大家亲近艺术,享受文化,放松身心,滋养性灵。

Today Art Museum planns extensive activities every weekend, including seminar, themic salon, artistic work, interaction between parents & children, small-scale performance and so on. These activities bring people closer to art from the perspective of art & culture. The participators will have chances to enjoy cultures, to relax and to receive spiritual cultivation.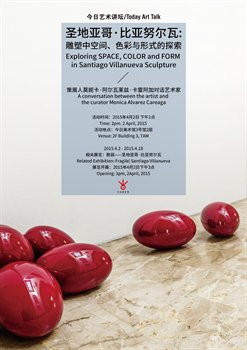 Exploring Space, Color and Form in Santiago Villanueva Sculpture

Type:Listen –Art & Culture Lecture
Guest: Santiago Villanueva(Well-known Spanish Sculptor)、Mónica Álvarez Careaga(Spanish Curator)
Time: 14:00-15:00 2th Apr.
Venue: 2/F Exhibition Hall of Building 3
5936 favoring
3 attending
New Topic
Exploring Space, Color and Form in Santiago Villanueva Sculpture
Exploring Space, Color and Form in Santiago Villanueva Sculpture
- A conversation between the artist and the curator Monica Alvarez Careaga
The work of Spanish sculptor Santiago Villanueva (Madrid, 1964) shows a clear vocation to occupy the space as a way of generating the artistic experience.
This artist turns the process of creating form into a meditation on the logic of growth that could well remind us of what happens during organic growth. Spherical or tubular shapes, forms are transitional, detained in a time of change: a drop, a curtain...
The formal clarity and the search of a seductive beauty through color and light of industrial materials, with techniques of moulding, smelting and finishes, characterize the work of Villanueva, rooted in the traditions of Western modernist art.
The architect and sculptor Santiago Villanueva (b. Madrid, Spain, 1964) began his training in 1984 attending art workshops taught by Eduardo Peña. Later, he attends workshops and emerging art seminars organized by the Fine Arts Society in Madrid. From 1986 to 1995 he was working as an artist and teacher in the workshop of Argentine sculptor Abraham Dubckovsky. Since 1985 he combines his studies in visual arts and college at the School of Architecture of Madrid where he obtained the title of Architect and Urban Planner in 1993. In 1999 he moved to Palma de Mallorca (Balearic Islands) where he lives and works.

In the recent years, Santiago Villanueva has exhibited in numerous Spanish, German, Portuguese and American galleries and museums: Casal Solleric Art Center (Palma de Mallorca), Kühne University (Hamburg), Juan Silió (Santander), Yngüanzo Gallery (Madrid), Xavier Fiol (Mallorca), Mario Sequeira (Braga), Diana Lowestein Gallery (Miami) and Sasha Wolf Gallery (New York) among others. Villanueva is a well-known figure in contemporary sculpture and their works are in private collections in the US and Europe.
Mónica Álvarez Careaga (b. Santander, Spain, 1964) is a curator, consultant and cultural producer.
As art historian for the University of Oviedo (Spain) and museologist for the École du Louvre (Paris), her professional career has included important responsibilities in the organisation of festivals, exhibitions and contemporary art fairs. She was the director of the national Spanish festival Miradas de Mujeres (In the Women's Eyes) in 2014. From 2007 to 2011 she was the artistic consultant for the ARTE LISBOA contemporary art fair and has been responsible for curated projects for the SWAB-BARCELONA fair since 2008.

Her work as curator of contemporary art includes numerous individual exhibitions by artists like Candida Höfer, Pedro Barateiro, Ellen Kooi, Georges Rousse, Wolf Vostell, Sara Huete, Iñaki Larrimbe, Rosa Muñoz and Concha García and group exhibitions in Spain, Portugal, Germany, Poland, Belgium, United States, China and Japan.