每个周末,今日美术馆都为大家安排了丰富的活动,包括专题讲座、主题沙龙、艺术创作、亲子互动、小型演出等等。这些活动从文化、艺术入手,通过多种方式,让大家亲近艺术,享受文化,放松身心,滋养性灵。

Today Art Museum planns extensive activities every weekend, including seminar, themic salon, artistic work, interaction between parents & children, small-scale performance and so on. These activities bring people closer to art from the perspective of art & culture. The participators will have chances to enjoy cultures, to relax and to receive spiritual cultivation.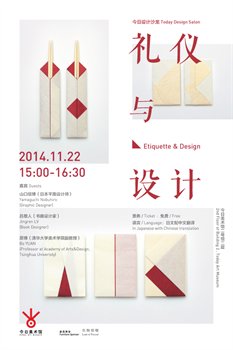 【Today Design Salon】Etiquette & Design

Type:Listen –Art & Culture Lecture
Guest: Yamaguchi Nobuhiro(Graphic Designer),Jingren LV (Book Designer),Bo YUAN (Professor at Academy of Arts&Design, Tsinghua Univeristy)
Time:22th Nov. (Sat.)15:00~16:30
Venue: 2nd Floor Exhibition Hall of Building 2
7379 favoring
45 attending
New Topic
【Today Design Salon】Etiquette & Design
Paper folding, as a typical tradition of wrapping gifts with papers, has been on stage for over six hundred years starting from Muromachi Period. In 2000 Yamaguchi Nobuhiro founded Origata Design Institute, in which he devoted himself into experimenting with traditional designs on paper folding - how to apply traditions into daily life. Paper folding no longer exists just as a pure ancient skill and property, but as a brand new element which could be integrated into daily life. Wrap up the traditions with new possibilities!
Hand-made treasures always melt the hearts. Paper folding products express a sense of simplicity and warmth, which envisions the emotional values without a trace.
Guest
Yamaguchi Nobuhiro:
Graphic Designer
Born in 1948 in Chiba Prefecture. Entered the Kuwasawa Design School in 1972,specializing in living design. Started his own design firm after leaving Cosmo Public Relations Corporation.
Currently head of Yamaguchi Design Office.
In 2000 he began contemporary paper folding based on traditional designs as head of the Origata Design Institute.
Major projects include the complete 100 book designs of the series Sumaigaku Taikei (Survey of the Science of Living) by Sumai Library Publishing. He served as art director of the architectural journal SD, published by Kajima Institute publishing, and was also responsible for the redesign of the series SD Sensho.
Author of Wax-White Wane. Co-author of Rei no Katachi, Our, Okuru, Hanshi de oru Origata Saijiki, Nihon Mingeikan e Ikou, Origata Design Insititute: New Wrapping Diagrams, and other works.
Since 2004 he has worked as art director and planner for exhibitions at the Matsumoto City Museum of Art, Nagano Prefecture and at gallery AXIS in Tokyo. Recent exhibitions include Su to Katachi (Material and Form) and Takeo Peper Show (2010).