每个周末,今日美术馆都为大家安排了丰富的活动,包括专题讲座、主题沙龙、艺术创作、亲子互动、小型演出等等。这些活动从文化、艺术入手,通过多种方式,让大家亲近艺术,享受文化,放松身心,滋养性灵。

Today Art Museum planns extensive activities every weekend, including seminar, themic salon, artistic work, interaction between parents & children, small-scale performance and so on. These activities bring people closer to art from the perspective of art & culture. The participators will have chances to enjoy cultures, to relax and to receive spiritual cultivation.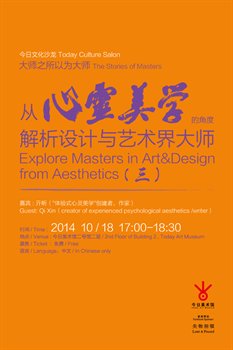 【Today Culture Salon】The Stories of Masters—Explore Masters in Art&Design from Aesthetics(III)

Type:Listen –Art & Culture Lecture
Guest: Qi Xin(creator of experienced psychological aesthetics /writer)
Time: 18th Oct. (Sat.)17:00-18:30
Venue: 2nd Floor Exhibition Hall of Building 2
7312 favoring
273 attending
New Topic
【Today Culture Salon】The Stories of Masters—Explore Masters in Art&Design from Aesthetics(III)
For the question "what has exactly made them"we have been pursuing for many times in our salons before, this event will be the last one of this series, and the same question we will propose again. This time, we will take "ultimate"answer to the interpretation of these great influential minds in soul aesthetics.
What parts Vanessa-Mae and her mother? What moment sparkles Joe Hisaishi to create music that slow and peaceful? What inspires Christopher Nolan to tell and direct a story so strangely breathtaking? What happened to them from the inner side?From the spiritual level,what has exactly made them?Let's discover the secrets of the masters.
Free admission, No reservation needed.
Guest:
Qi Xin is the best selling author of Turnover of Love(Joy everywhere in mainland of China), column writer of Trendshealth Magazine, and the co-founder of spiritual column with author of Men Are from Mars, Women Are from Venus,John Grey. She once was the editor-in-chef of Surface China, a well-known art & design related magazine. She has published books Three Days to hearing and I sing to you the youth,and is professional in psychology and embodied Mind, with which she combines to create"experienced psychological aesthetics"so as to read by mind.