每个周末,今日美术馆都为大家安排了丰富的活动,包括专题讲座、主题沙龙、艺术创作、亲子互动、小型演出等等。这些活动从文化、艺术入手,通过多种方式,让大家亲近艺术,享受文化,放松身心,滋养性灵。

Today Art Museum planns extensive activities every weekend, including seminar, themic salon, artistic work, interaction between parents & children, small-scale performance and so on. These activities bring people closer to art from the perspective of art & culture. The participators will have chances to enjoy cultures, to relax and to receive spiritual cultivation.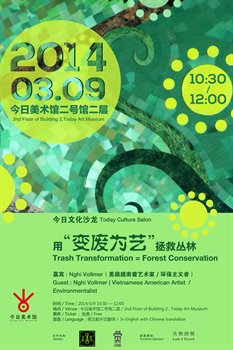 【Today Culture Salon】Trash Transformation = Forest Conservation

Type:Listen –Art & Culture Lecture
Guest:Nghi Vollmer(Vietnamese American artist\ environmentalist)
Partner:Greening the Beige
Furniture Sponsor: Lost&Found
Time:9th Mar. 10:30-12:00
Venue: 2/F Exhibition Hall of Building 2
9386 favoring
751 attending
New Topic
【Today Culture Salon】Trash Transformation = Forest Conservation
Deforestation becomes one of the environmental issues in the 21st century that contributing to global climate change. Forests are important to the carbon and water cycles that sustain life on earth, and they are being cut down for many reasons; logging operations which provide the world's wood and paper products is one of them.
As an environmentalist first and foremost, Nghi's artwork is simply the product of her deeper passion and commitment toward a sustainable living with the environment. Nghi wants to express her compassion for our green planet through vibrant and colorful art works using discarded magazines, cardboard and food packaging that she collected over the years as materials; she wants to paint with paper. Utilizing her architectural skills, Nghi creates unique form of three dimensional arts out of cardboard and food packaging boxes, and she paints them over with colorful and textural cut out images derived from magazines; thousands of incongruent pieces are assembled like mosaic to create an entirely new composition.
Nghi wants to reclaim, transform, and give new life to ordinary paper materials that we tend to over use, overlook, and dispose once they have been used. She hopes her work will serve as a bridge, connecting with audiences to generate a dialog that will raise awareness and inspire and motivate individuals to live greener.
Guest
Nghi Vollmer (Vietnamese American/Living in Beijing)
Graduated from the University of Florida in 2007
Bachelor of Architecture
Partner
Greening the Beige functions as a public platform that promotes environmental awareness through the arts.
GtB promotes artists, organizations, and individuals dedicated to sustainable development in Beijing. All of our events are designed to celebrate innovative, eco-minded, positive projects and creative works.