每个周末,今日美术馆都为大家安排了丰富的活动,包括专题讲座、主题沙龙、艺术创作、亲子互动、小型演出等等。这些活动从文化、艺术入手,通过多种方式,让大家亲近艺术,享受文化,放松身心,滋养性灵。

Today Art Museum planns extensive activities every weekend, including seminar, themic salon, artistic work, interaction between parents & children, small-scale performance and so on. These activities bring people closer to art from the perspective of art & culture. The participators will have chances to enjoy cultures, to relax and to receive spiritual cultivation.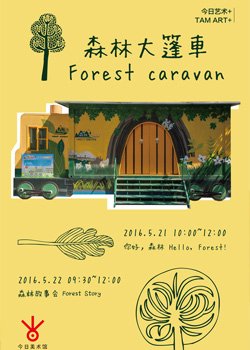 Today Art/forest caravan

Type:Play- Experience & Creation
5115 favoring
1 attending
The forest caravan comes to Today Art Museum !

This Saturday, Children aged between 4 and 12 will have the chance of experiencing the forest . We will provide them with activities like driving forest caravans, painting forest stones and playing forest games, integrating art and forest elements into experiencing education.

On Sunday, We also offers a forest
-story telling activity for children between 6 and 12, reading forest picture books for them and explaining the concept of garbage classification, as well as daily goods made out of natural materials in interactive games.

For detail information and to sign up, please contact Teacher Panda:
010-84236950,13810019612.