每个周末,今日美术馆都为大家安排了丰富的活动,包括专题讲座、主题沙龙、艺术创作、亲子互动、小型演出等等。这些活动从文化、艺术入手,通过多种方式,让大家亲近艺术,享受文化,放松身心,滋养性灵。

Today Art Museum planns extensive activities every weekend, including seminar, themic salon, artistic work, interaction between parents & children, small-scale performance and so on. These activities bring people closer to art from the perspective of art & culture. The participators will have chances to enjoy cultures, to relax and to receive spiritual cultivation.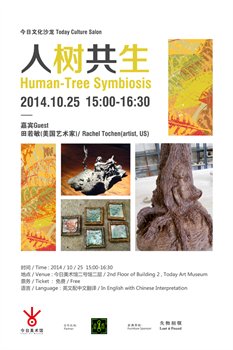 【Today Culture Salon】Human-Tree Symbiosis

Type:Listen –Art & Culture Lecture
Partner:Greening the Beige
Guest : Rachel Tochen(artist, US)
Time:25th Oct. (Sat.),15:00~16:30
Venue: 2nd Floor Exhibition Hall of Building 2

6424 favoring
5 attending
New Topic
【Today Culture Salon】Human-Tree Symbiosis
Contradictions between forces are everywhere in nature, not only in human social institutions.'
Regardless, in the case of humanity and nature neither can escape each other and so are forced into perpetual conflict/brief moments of respite, which is where my idea comes from. This idea that we cannot get away from nature, and I suppose that leads me to what this series will encapsulate that maybe achieving some sort of symbiosis will result in less conflict between humans and the environment.
Rachel Tochen's artistic idea of "Human-Tree Symbiosis" was actually conceived from dialectics and an oft-used example to explain dialectics is one between humanity and nature. The central idea of dialectics is that there are two forces in conflict, in this case, humanity and nature, and that they will always be in conflict.
In this culture salon we invite full audience participation as Rachel Tochen expounds on the influences behind her recent sculptural series, "Human Tree Symbiosis" and introduces selected pieces. After her presentation, a group exercise will be lead and the audience will be encouraged to create their own piece of work using clay to express their thoughts on the environment.
Guest
Rachel Tochen is a Ph.D. candidate in urban-rural planning and development at Renmin University of China. She first studied pottery in high school and continued studying it in her spare time. After coming to Beijing she found a studio and has continued to make her ideas reality.
This past year she has held two mini-exhibitions, one through GtB at the JUE Market and the other at Tongxue Nihao! Having grown up in Oregon, she is heavily influenced by the natural environment and people's relationship to it. Living in Beijing has further inspired Rachel to delve deeper into the connection between man and nature and express this through her sculptures.
Partner
Greening the Beige functions as a public platform that promotes environmental awareness through the arts.
GtB promotes artists, organizations, and individuals dedicated to sustainable development in Beijing. All of our events are designed to celebrate innovative, eco-minded, positive projects and creative works.