每个周末,今日美术馆都为大家安排了丰富的活动,包括专题讲座、主题沙龙、艺术创作、亲子互动、小型演出等等。这些活动从文化、艺术入手,通过多种方式,让大家亲近艺术,享受文化,放松身心,滋养性灵。

Today Art Museum planns extensive activities every weekend, including seminar, themic salon, artistic work, interaction between parents & children, small-scale performance and so on. These activities bring people closer to art from the perspective of art & culture. The participators will have chances to enjoy cultures, to relax and to receive spiritual cultivation.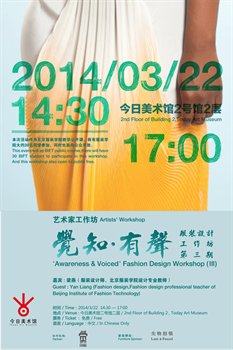 【Artists' Workshop】"awareness & voiced"fashion design workshop(III)

Type:Listen –Art & Culture Lecture
Guest: Yan Liang (Fashion design,Fashion design professional teacher of Beijing Institute of Fashion Technology)
Tiime:14:30-17:00 22nd Mar. (Sat.)Today Art Museum
Venue:2nd Floor Exhibition Hall of Building 2
Furniture Sponsor: Lost&Found
7129 favoring
127 attending
New Topic
【Artists' Workshop】"awareness & voiced"fashion design workshop(III)
"Awareness & Voiced"workshop," "there is no need to smooth a fault in the past,but you know we can try our best to make thins better in the future.actually and fortunately I lost my way not too far away,and I'm well aware I was wrong in the past but right at present ".BIFT 's fashion design professional teacher -Yan Liang will accomplish this practice between "Self"and "Culture" in scene creation with her young and outstanding design team:participation of the power of young design ,to think and explore the possibility of traditional cultural innovation with positive attitude."Awareness & Voice"workshop will present with three times.
This is as the Third Workshop :
Spot demonstration and creation sharing:the Third Workshop will give a live display creation and creation experiences sharing base on the Second workshop .From "Traditional skill"to "design concept",from "self-expression"to "cultural innovation"...There will have more voices of art language ,material's creation and design thinking from this young design team.
This event will as BIFT public course,there will have 30 BIFT student to participate in this workshop. And this workshop also open to public free.

Guest
Yan Liang who is a fashion design professional teacher, director of women design in BIFT,fashion designer, turns to study of traditional culture innovation and creation of fashion art with her students as the main of young design team.She had participated in Fashion Art exhibitions several times ,launched fashion shows,professional conferences,served as judge in competitions of fashion design and "CCTV-6 Creation Sky "contest of fashion design .