每个周末,今日美术馆都为大家安排了丰富的活动,包括专题讲座、主题沙龙、艺术创作、亲子互动、小型演出等等。这些活动从文化、艺术入手,通过多种方式,让大家亲近艺术,享受文化,放松身心,滋养性灵。

Today Art Museum planns extensive activities every weekend, including seminar, themic salon, artistic work, interaction between parents & children, small-scale performance and so on. These activities bring people closer to art from the perspective of art & culture. The participators will have chances to enjoy cultures, to relax and to receive spiritual cultivation.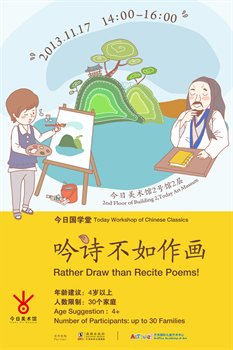 Today Workshop of Chinese Classics/ Rather Draw than Recite Poems!

Type:Happy -Children
Time: 14:00~16:00 17th November
Venue: 2/F Exhibition Hall Building 2
Age Suggestion: 4+
Number of Participants: 20 Families / Session
10845 favoring
9 attending
New Topic
Today Workshop of Chinese Classics/ Rather Draw than Recite Poems!
Parents force me to recite poems every day. It is so boring. I don't even understand what they mean! Drawing is more fun! I can draw whatever I like! But mom and dad cannot recognize what I draw and I have to explain a lot. Hey! Wouldn't it be wonderful if drawing could be done together with poems recitation? Maybe I could make a poem then! What did you say? Some one already did that? Hundred years ago there was a man called Tao Yuanming in Jin Dynasty who could achieve "painting in the poem". And he is coming with a time machine and teach me poem recitation and drawing at Today Art Museum? Well, what are we still waiting for? Let's go to Today Art Museum! Maybe I can even go back to Jin Dynasty with the old man Tao Yuanming with his time machine!
Activity is free, reservations required
Call for Reservations: 010-58760600-100 (M-F)