每个周末,今日美术馆都为大家安排了丰富的活动,包括专题讲座、主题沙龙、艺术创作、亲子互动、小型演出等等。这些活动从文化、艺术入手,通过多种方式,让大家亲近艺术,享受文化,放松身心,滋养性灵。

Today Art Museum planns extensive activities every weekend, including seminar, themic salon, artistic work, interaction between parents & children, small-scale performance and so on. These activities bring people closer to art from the perspective of art & culture. The participators will have chances to enjoy cultures, to relax and to receive spiritual cultivation.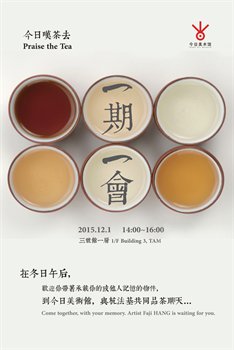 Praise the Tea / A Period of Time

Type:Play- Experience & Creation
Time:14:00-16:00
Venue:1/F, Building 3
5958 favoring
94 attending
Reservation required.Please send Name + phone number to edu@todayartmuseum.org .


The exhibition hall is also suitable for a person to read or drink and chat with friends. Come together, with your memory. Artist Faji HANG is waiting for you.